Privacy Policy
What is a cookie
A cookie is a file that is downloaded to the user's computer, smartphone or tablet when accessing our website. The purpose of these cookies is to store or retrieve certain information about the browsing habits, such as the number of times the page has been visited, and in general, provide our service.
Cookies help us to remember your logging credentials and your preferences as a user of the service. In addition, the statistical information we collect makes us understand the user's need and improve the service. Cookies also serve to make advertising more efficient, helping us to show you relevant ads and content of your interest.
What cookies does this website uses?
There are different types of cookies that can be classified according to the entity that manages them (own or from third parties), according to the period of time that they remain activated (session or persistent), according to the purpose (technical, personalisation, analysis).
The cookies on this website do not store sensitive information about you, but only technical data, personal preferences or personalisation of content. Below we provide information about the type of cookies used in the Service and the purpose of the cookies.
This website uses own and third party cookies:
Own Cookies:
are those that Antares sends and manages to improve the quality of the services we provide.
From third parties Cookies:
are those that Antares's collaborators send to manage advertising spaces.
Specifically, we have the following cookies:
Marketing cookies are used to track visitors across websites. The intention is to display ads that are relevant and engaging for the individual user and thereby more valuable for publishers and third party advertisers.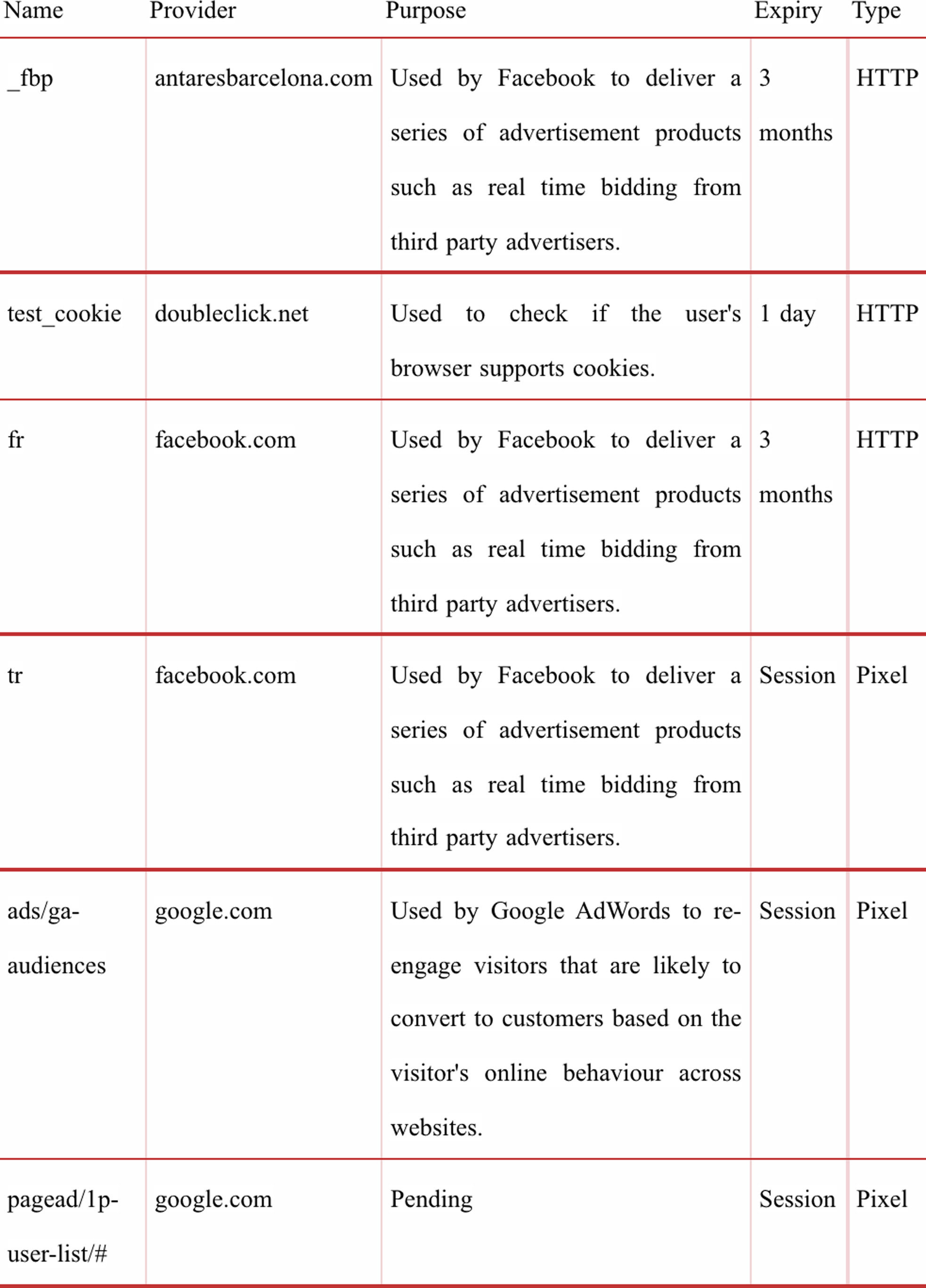 You can learn more about Google Analytics cookies and see the description of the type of cookies used by Google Analytics and their expiration period at the following link:
https://developers.google.com/analytics/devguides/collection/analyticsjs/cookie-usage?hl=es
Necessary cookies help make a website usable by enabling basic functions like page navigation and access to secure areas of the website. The website cannot function properly without these cookies.

What happens if I disable the cookies?
The following discloses the extent to which you may be able to disable cookies:
You will not be able to share content from that website on Facebook, Twitter or any other social network.
The website will not be able to adapt the contents to your personal preferences, as usually happens in online stores.
You will not be able to access the personal area of that website.
The website will not be able to perform web analytics on visitors and traffic to the website, which will make it difficult for the website to be competitive.
How can I disable the cookies?
In order to deactivate, restrict, block or delete cookies, the user must modify the configuration of the browser used in their terminal. In general terms, browsers offer the following configuration options in relation to the installation of cookies:
Edge & Internet Explorer
Firefox
Chrome
Safari
Other aspects
We may update the Cookie Policy on our Website, so we recommend that you review this policy each time you access our Website in order to be properly informed about how and what we use cookies for. The Cookie Policy was last updated on 14/10/2019.
For more information, you can contact us by e-mail at the following address: compliance@antaresbarcelona.com